Let Project Sport take away the stress of organising the party, as we book a venue and completely supervise the whole event, resulting in a stress free experience for yourself!
Our enthusiastic coaches will provide you with a party you will never forget!
Project Parties involve:
1 qualified coach/2 upon request
All equipment
Player of the day prize, where appropriate
A card/gift from us

Nerf Wars Birthday Parties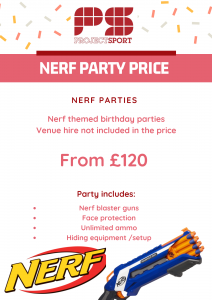 Project sport now provide children birthday's with the new popular nerf wars party. A Nerf war is an activity involving Nerf Blasters or other foam-firing toy weapons. Nerf wars can be a wide range of games, our parties include well-organized battles with high-powered modified blasters.
Nerf war parties include:
2 qualified coaches
All foam dart blasters
Unlimited ammo
Face protecting masks
Hiding equipment including: Cargo nets, tunnels and inflatables.
Any enquires contact us @
Antony@projectsport.org.uk
07719698644
or fill in boxes below to enquire
Antony from project sport did my sons 5th birthday party on Sunday and it was excellent!! Antony was brilliant with the children and all 18 of them were engaged for the full hour (for 4/5 year olds that is impressive!!) they all had so much fun and my son loved it! Would definitely recommend and we will certainly be using them again!
Lyndsey Shaw - January 2018
Fantastic afternoon for my sons party jacks had a great time zorbing and playing footy really enjoyed himself special thanks to Emily and Tom who were great xx
Claire Armstrong - September 2017
Thanks again Andy for another brilliant party! Harvey said it was his ''best ever''.
Mr Swift - January 2015